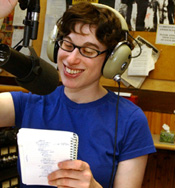 image from: evbdn.eventbrite.com

Welcome to the DelSo, Laura Glazer! Yesterday I got some exciting news – another artsy person has moved into the Delaware Avenue South neighborhood and I couldn't be happier. In case you don't Laura, she, among other things, hosts the radio show "Hello Pretty City" which airs Sunday nights from 8-10 pm on 97.7, WEXT. Metroland Magazine named Laura's show the Best Indie Radio Rock of the year in 2010 . Laura also makes really cool buttons like these and is involved with community events including the Times-Union's Garage to Glory contest, Art on Lark, First Friday and currently (until the end of this month) has a display of her photographs on display at the (Hi)story Labor(atory) in Hudson, N.Y.
No pressure, Laura, but I can't wait to see how you Pretty City-fy the DelSo.