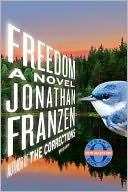 image from Barnes and Noble
Since finally finishing Jonathan Franzen's Freedom I have regained my own personal freedom in selecting reading material. For the record, I will never again read another of Franzen's self-indulgent, over-sized volumes about some of the least likable people in the universe. Screw you, Pulitzer and National Book Award conferrers - the appeal of his stories simply escapes me.
image from Barnes and Noble
There have been a couple of things, however, which I read this summer and thoroughly enjoyed. The first was Sarah's Key, written by Tatiana de Rosnay. This fictional work about the roundup of Jews in France during World War II was near impossible for me to put down. I've always had an interest in Holocaust literature and have read many books about this topic (one of my favorites is the Book Thief by Marcus Zusak), however, I was completely unfamiliar with this dark part of French history. A movie starring Kristin Scott Thomas has just been released and I sincerely hope the filmmakers did this great little book justice.
image from Barnes and Noble






I must admit, I feel a connection to Tina Fey. Like me, she wears smart girl glasses and her character on 30 Rock, Liz Lemon, has an old school card catalog in her home. For sheer fun, I can't recommend Tina Fey's book, Bossypants, enough. She is one hilarious lady and her voice carries consistently throughout this book as she shares her personal and professional lives with the reader. I can't remember the last time I literally laughed out loud when reading a book, but this autobiography cracked me up. If only Bossypants was the same length as Freedom my summer reading would have been much more balanced between enjoyable and an endurance contest.
What was on your summer reading list? Winners? Losers?